About Altrisk
Altrisk (Hollard) started out as a specialist long-term risk product provider, that is, they offered Life Insurance and personal risk products for un-healthy people. What sets them apart from their competitors is their ability to "think outside the box".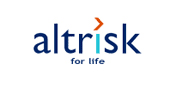 Starting out in 1999, their inherent entrepreneurial spirit, a clear focus and specialization in risk, has helped Altrisk to grow to over 90,000 policy holders.
Altrisk is backed by the Hollard Group and Hannover Life Re. So while clients receive a Hollard Life policy document the products and policies are assessed and administered entirely by Altrisk on behalf of Hollard Life. An important part of managing risk is making use of suitable reinsurance for which Hannover Re is our primary partner, but risks are placed with Reinsurance Group of America (RGA) and Gen Re where appropriate.
This totally unique structure provides our clients with the best of both worlds – the advantages of dealing with a focused operation combined with the backing of the Hollard Group and the security of major international reinsurers. Altrisk is available through Independent Financial Advisors.
Life Cover Guide